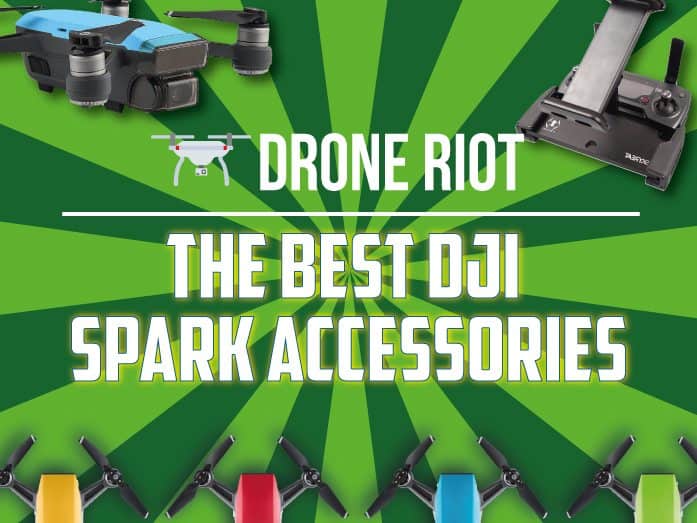 The Best DJI Spark Accessories
Flying a drone is awesome there?s no denying that, but with the right accessories you can take your flying experience to the next level.
That?s why we?re going to help you find the best DJI Spark accessories, designed to improve and aid your flights.
There are a lot of options out there, but in this article we?re going to look at what we think are the 13 best accessories for your DJI Spark.
Lets get to it.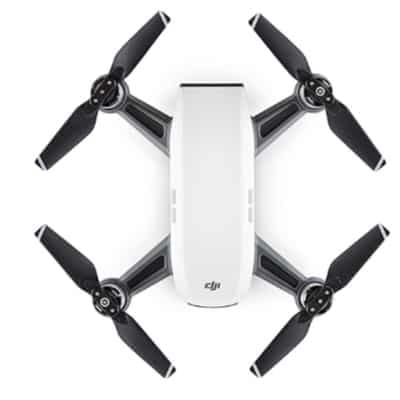 Best DJI Spark Accessories List
DJI Spark Carry Case ? Must Have!
?Now you?ve got your DJI Spark, it?s time to start thinking about how you?re going to transport it safely.
A good carry case is one of the most important items on our list of the best DJI Spark accessories.
This is because it allows you to easily travel with your drone with piece of mind that your drone is safe.
The Telesin Portable Travel case is a great affordable option that provides a decent amount of storage and fantastic protection. It?s also waterproof, so you don?t have to worry about getting caught out in the rain.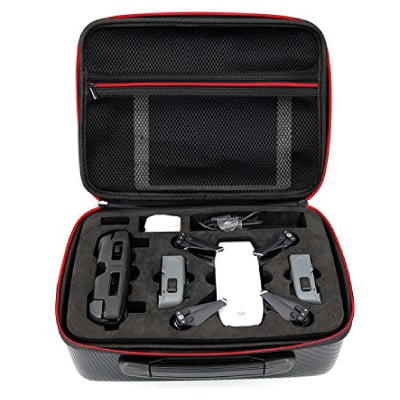 You can fit the DJI Spark, controller, 2 spare batteries, charging cables and a tablet inside the Telesin case.
Note:?The Telesin case is no longer for sale. Check out out list of the?best DJI Spark cases to find another option.
Height Extenders
Next up on our list of the best DJI Spark accessories are height extenders. These are extremely handy accessories that won?t break the bank.
Height extenders are useful as they raise your DJI Spark up from the ground. This means you can take off more easily in certain areas where the propellers may get caught, such as grass.
As the Spark rests on the ground there are some places where you wouldn?t want to take off from, such as a beach. The height extenders allow you to take off over sand, without having to worry that some is going to get inside your drone.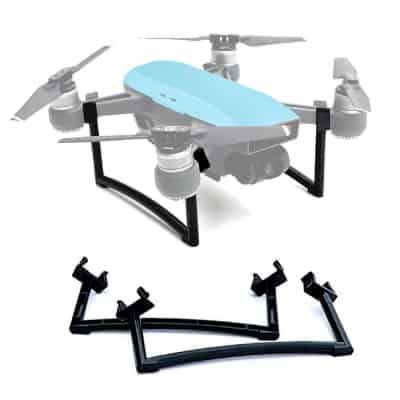 There are numerous other circumstances where these would come in handy, such as on snow or wet ground.
The height extenders are also extremely lightweight, so they don?t affect the Sparks ability to fly.
For such a low price, they really are a must have DJI Spark accessory.
Note:?No longer available.
Landing Pad
A landing pad is another great accessory for those of you who take your Spark off from the ground, which I?m assuming is most of you.
It allows you to take off and land in areas that would normally pose some kind of risk to your drone, such as on a beach.
Simply lay down your landing pad and you?ve got a great safe area to take off from. It?s extremely lightweight and can be folded down to a compact size.
The best part?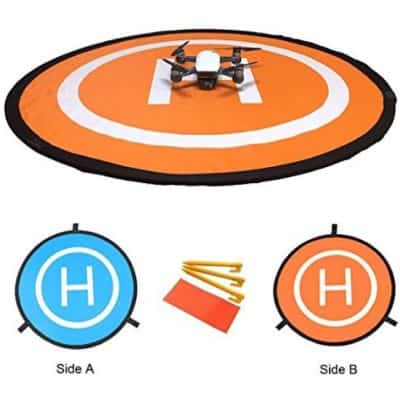 The landing pad is unbelievably cheap and with the protection it offers your drone is easily one of the best DJI Spark accessories.
Tablet Holder
This is a must have accessory for anyone who wants to fly their DJI Spark using a tablet.
This lightweight tablet holder allows you to easily connect your iPad to the transmitter. This mount can fit phones & tablets between 4-12 inches.
If you would like to fly your DJI Spark with your iPad, this really is a must have accessory.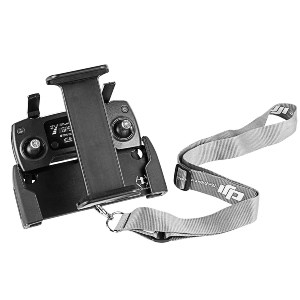 Prop Guards
Moving on to the next item on our list of the best DJI Spark accessories and a pretty obvious one ? prop guards.
If you?re new to flying I really do recommend using prop guards, not just to protect your Spark from damage, but to protect those around you as well.
Even if you?re a more experienced pilot, it?s normally a good idea to use prop guards, especially if you?re flying in a confined area. They?re super lightweight as well so they won?t affect the way the Spark flies.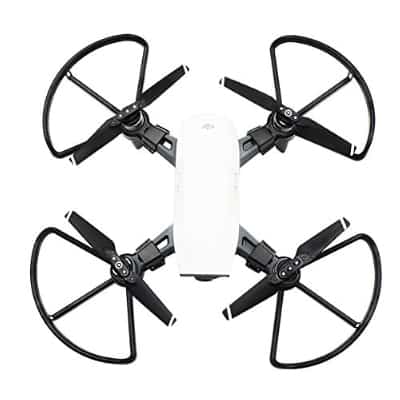 Finger Guards
One of the coolest things about the DJI Spark is that you can take off and land from the palm of you hand.
This sounds great in theory, but the last thing you want is for the propellers to hit your fingers. I?ve seen some pretty grim pictures out there of people cutting their fingers when landing the Spark in their hands.
It?s best to just save yourself the pain and invest in some finger guards. They?re unbelievably cheap and will allow you to take of and land safely in your hand.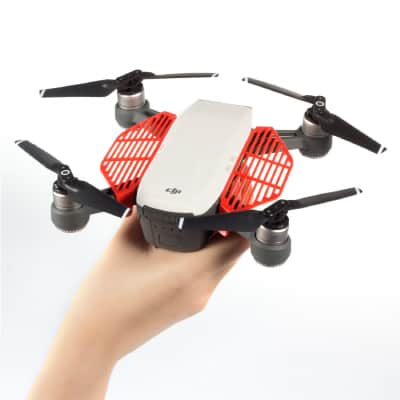 This accessory really is a no brainer and undoubtedly one of the best DJI Spark accessories.
Spare Battery?? A Must Have!
Ok, if you?re wanting to take drone piloting seriously and record some epic footage, you will 100% need at least one spare battery.
Although the Spark offers a decent flight time of around 15 minutes, spare batteries will offer you a lot more time to get your shots.
You?ll have the time to reshoot if you need to, and also have the freedom to explore from the area and come up with some new ideas.
Spare batteries also allow you to film at multiple locations.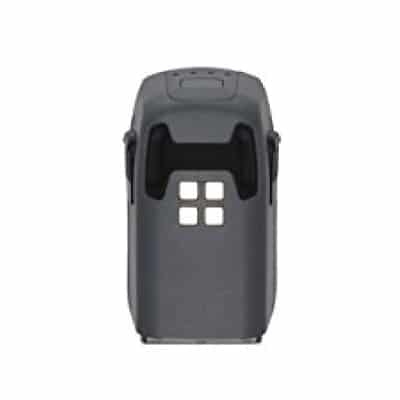 There?s been a few times where I?ve taken my drone on hikes and wasted my battery filming early on, only to find an awesome new spot towards the end.
Although they?re one of the pricier items on our list of the best DJI Spark accessories, they really do make all the difference.
Joystick Protector
Depending how you transport your drone and controller, joystick protectors are a great and inexpensive way to protect your transmitter.
If you don?t have a custom carry case for your DJI Spark (something I recommend you do have), the joystick protectors will be a great addition to your set up.
They will stop the joysticks of your controller from getting moved around whilst your on the go. The last thing you want to happen is to get your drone in the air, only to find out you can?t control it correctly.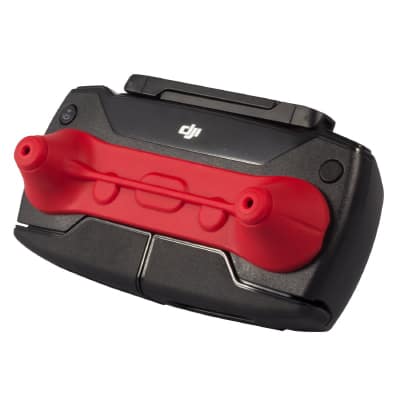 They?re super cheap, handy and a fantastic DJI Spark accessory.
Note:?No longer available
Range Extender
This is an accessory for those of you who fly your DJI Spark using a transmitter. When piloting the Spark with the controller, you can reach a distance of up to 1km away, depending on the conditions.
For most people that?s fine. However there?s always the option to make this further using a range extender.
Considering how cheap they are, I?m surprised more people aren?t using them.
If you do end up buying a range extender, it?s worth noting that when flying a drone you must keep it in line of site at all times.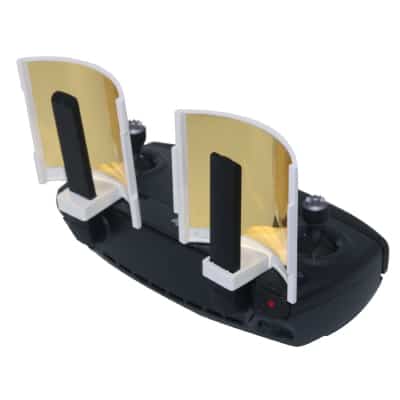 The range extender offers you a lot more freedom in the air to explore the surrounding area and is a great accessory if you want to film something far away from where you are.
?Read Also: Best D??JI Go Compatible Tablets
iPad Mini
Next up on our list of the best DJI Spark accessories is an iPad. This isn?t a must have by any means, but I find it so much better flying when using a tablets larger screen.
I used to fly my drone with my phone connected and it was good, but sometimes I couldn?t get a clear view of what my drone was filming.
When you?re using an iPad, the screen is a lot less cluttered and it provides you with a nice large feedback of your shots, which any filmmakers will tell you is pretty important.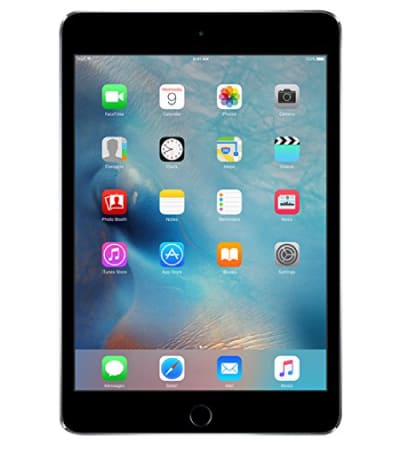 If you?re planning on flying with an iPad, make sure you get an iPad mount, which we?ve discussed further up this list.
?Sure, an iPad is one of the more flashier items on our list of the best DJI Spark accessories, but very, very handy indeed!
Gimbal Lens Cap
When you?re not flying your drone, its important that you take good care of it and protect it from breaking.
A gimbal lens cap is a great way to stop any dust or water getting into your motorised gimbal and breaking it.
It also protects the gimbal from any collisions it may encounter during transportation.
As DJI doesn?t offer one of these alongside the drone, it really is one of the most important items on our list of the best DJI Spark accessories.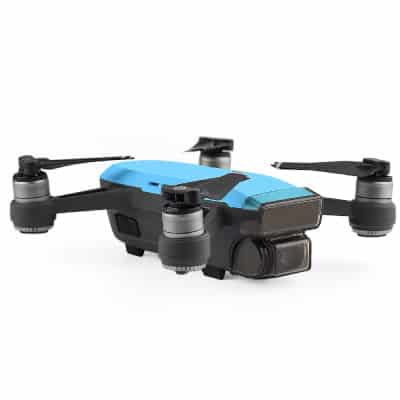 They?re also super cheap; you can pick them up on Amazon for less than 10 bucks, not bad at all!
You must remember to take this off before turning on your DJI Spark, as it will stop the motorised gimbal from being able to move.
Spare Propellers
Especially as a beginner pilot, it?s always a good idea to have spare propellers.
A damaged propeller can be detrimental to a drone, so having spares is vital.
If you think one of your props is damaged, just throw it away and use one of your spares.They?re extremely inexpensive to replace and a good thing too, considering how easy they are to break!
?Although simple, spare props are one of the most vital items on our list of the best DJI Spark accessories.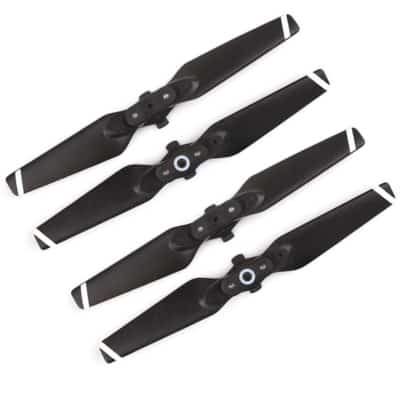 Battery Charging Hub
Lastly on our list of the best DJI Spark accessories is a battery-charging hub.
As most pilots have more than one battery for their DJI Spark, it?s a good idea to buy a battery-charging hub.
Especially if you're anything like me with a pretty terrible memory. I tend to leave charging my batteries pretty last minute and it's safe to say a charging hub is a abseloute life saver.?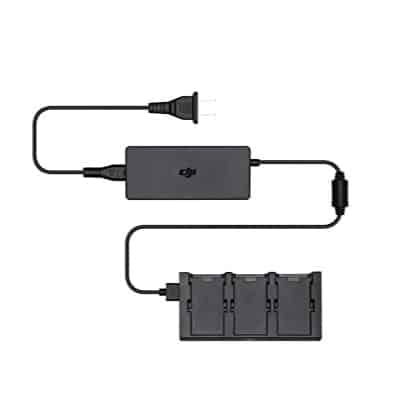 Best DJI Spark Accessories Round Up
Thanks for taking the time to read our article on the 13 best DJI Spark Accessories. We hope that you?ve found it useful and as always feel free to get in touch if there is anything you would like us to add.
If you would like any information on the DJI Spark itself, you should head over to the DJI website.
Happy flying!